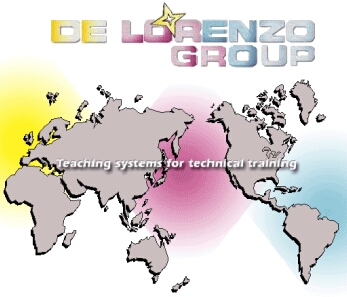 De Lorenzo Group are specialized in the design, production and sale of educational equipment and systems for technical and vocational training in Bulgaria in the following fields:
electrical engineering;
electronics engineering; 
electrical machines;
electrical power engineering;
electrical installations;
telecommunications;
automation;
industrial electronics;
power electronics;
autotronics;
thermotechnics;
process control;
automatic control techniques;
food technologies, etc.
It operates in constant co-operation with De Lorenzo Italia for what concerns all the technical-commercial aspects and the development of new products.
De Lorenzo of Bulgaria is applying De Lorenzo of America experience.
De Lorenzo of America is established in 1995 with the purpose of representing De Lorenzo in Mexico and Central America.
The new company, made of a technical-commercial team of proven experience in the field of education as well as in the industrial field, intends to develop in particular turn key projects for technical education, with the aim of bringing to the schools the experience of the industry.
In 1996 De Lorenzo of America obtains the first contract with the Technical University of Monterrey, well reputed private university, for the supply of a Telecommunication laboratory.
Still in the same year an advanced technological solution, the so termed "Electronic Library", is supplied to the Autonomous University of Guerrero".
In 1997, De Lorenzo of America develops a project for simulation laboratories for some Skill Training Centres and supplies a great number of laboratories in different subjects to the Military University of Engineering.
It takes part for the first time to the Worlddidac exhibition in Mexico City.
In 1998 the intense technical and commercial activity leads to several results through contracts for the supply of educational equipment to 12 new Technological Universities, to the Skill Training Centres, to the Technological High Schools and to CAPFCE.
In this year a new activity has started for the production of educational equipment for its sale in the local market and for export.
Production is increased in the following year and new products are also designed by its personnel. Sales are by then constant in terms of excellent turnover.
In the following years De Lorenzo of America consolidates its presence in the Mexican market, widens the range of products that are locally designed and manufactured, develops new interactive manuals that are suitable for the supply of distance learning courses and starts a specific commercial activity for the Central America region.
Discount Tariffs Packages and exclusive services secured for members of Industrial &  Business Park Aitos.